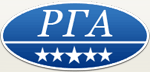 Russian Hotel Association
The Russian Hotel Association (RHA) is a non-profit organisation uniting hoteliers and other collective accommodation facilities, as well as producers of goods and services for them. It was founded in 1997.
RHA is a co-operation aimed at promoting development of the national hospitality industry, expansion and improvement of quality of hotel services and their promotion in the domestic and foreign markets.
RGA means establishment and maintenance of intra-corporate relations promoting expansion of business and professional contacts, protection of Russian hotel business and fair competition.
RHA - participation in the development and implementation of national and international programmes in the hospitality industry.
RHA - is participation in the development of federal, regional and local regulations that meet the professional interests of the Association members.
RHA is the practical implementation of a specific Action Programme.
The Russian Hotel Association is ready to cooperate with all organisations and enterprises working in the tourism and hospitality industry.