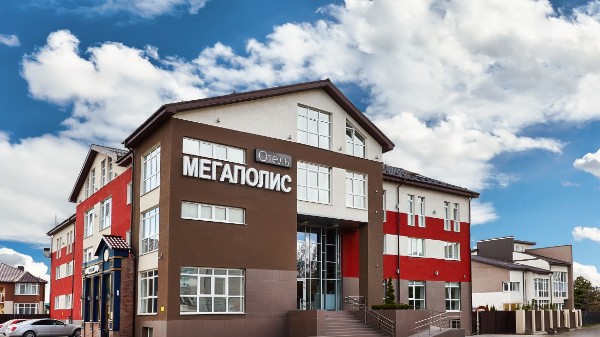 Megapolis Hotel and Restaurant Complex - a business class hotel in Bryansk
The hotel was built in 2014 and is located 5 minutes from the center of Bryansk. The hotel has 46 rooms of different categories from inexpensive "economy" class to luxurious rooms at a reasonable price. There is free high-speed wi-fi, free parking with video surveillance, a gym and a modern conference room in the whole complex. A spacious reception area, Otis elevator for customer convenience, modern air conditioning system and digital television (over 150 channels) are nice little things.
In the morning the hotel offers a buffet breakfast, which is included in the room rate. The hotel is notable not only for the highest level of comfort and service, but also for very reasonable prices. "Megapolis" is one of the best hotels in Bryansk representative class.
An indisputable advantage of the hotel "Megapolis" is a quiet and cozy restaurant "Chester". The restaurant chef Semen Kolesnikov is the winner of the first Russian season of the culinary show "Hell's Kitchen", active member of the National Guild of Chefs of Russia. Guests of the city do not need to leave the territory of the hotel to find a decent place where you can organize a meeting or just have a good time.
2-й Дачный пер., 6, Супонево, Брянская обл., Россия, 241520
Room stock
Each room is at your service:
LCD TV
Shaving set
High speed Wi-Fi
Shampoo, Shampoo & Soap
Shower or bath (depending on category)
Toothbrush and toothpaste
Cable and Digital TV (150 channels)
Air conditioning
Work desk
Slippers
Phone
Hairdryer
Bathrobes (depending on category)
Refrigerator
Tea, Coffee, Sugar, Chocolate
Electric kettle
Exhibition Fairground
2-й Дачный пер., 6, Супонево, Брянская обл., Россия, 241520
Participating with:
Activity type